Program Duration: 2 Days
Max Participants: 18
Price Per Participant at Silecio Facility: $175.00 per person
Price at Your Facility:  Contact us for pricing
Program Duration: 2 Days
Max Participants: 18
Silecio Inc. reserves the right to cancel and/or reschedule any courses at a Silecio facility with registration of six (6) people or less. For our full terms & conditions, please visit Terms & Conditions page >>
Program Duration: 1 Day (8 Hours in Class)
Max Participants: 18
Standard First Aid & CPR/AED (Level C) Recertification
Course Description:
This Red Cross Recertification Program covers a wide range of First Aid injuries, illnesses and life threatening emergencies. Standard First Aid CPR/AED (Level C) Re-Certification is ONLY permitted for those who have a previous Standard First Aid CPR (Level C) certificate issued within 3 years. Proof of certification is due on the day of the course (within the last 3 years) and it MUST be a Canadian Red Cross certificate.
Completion:
Successfully demonstrate skills and critical steps
Min. 75% mark for written knowledge evaluation
Attend and participate in 100% of the course
Certification:
3-year Red Cross certification. Recertification is only permitted once for every full certification.
Course Content:
Preparing to Respond – Introduction
Emergency Medical System (911)
Recovery Position (unconscious breathing)
CPR for adults, children and babies
Automated external defibrillator (AED)
Heart attack/Angina & Stroke/TIA
Choking (adults, children and babies)
Responding as a "team"
Anaphylactic Shock (severe allergy) and Asthma
Deadly bleeding – internal and external
Amputations – partial and complete / Impaled objects
Shock/Fainting
Wound Basics (minor cuts, scrapes, punctures, bruises burns)
Secondary Survey
Head & spinal injuries
Muscle, bone & joint injuries
Burns (heat, chemical, electrical, sun)
Diabetic emergencies
Seizures or Convulsions (includes infant/child high fever)
Heat Cramps, Heat Exhaustion and Heat Stroke
Hypothermia and frostbite
Emergency child birth
Poisoning
Course Materials:
First Aid & CPR Manual
Red Cross Certificate will be given upon successful completion of the course
Participants will receive a digital wallet card as proof of successful course completion.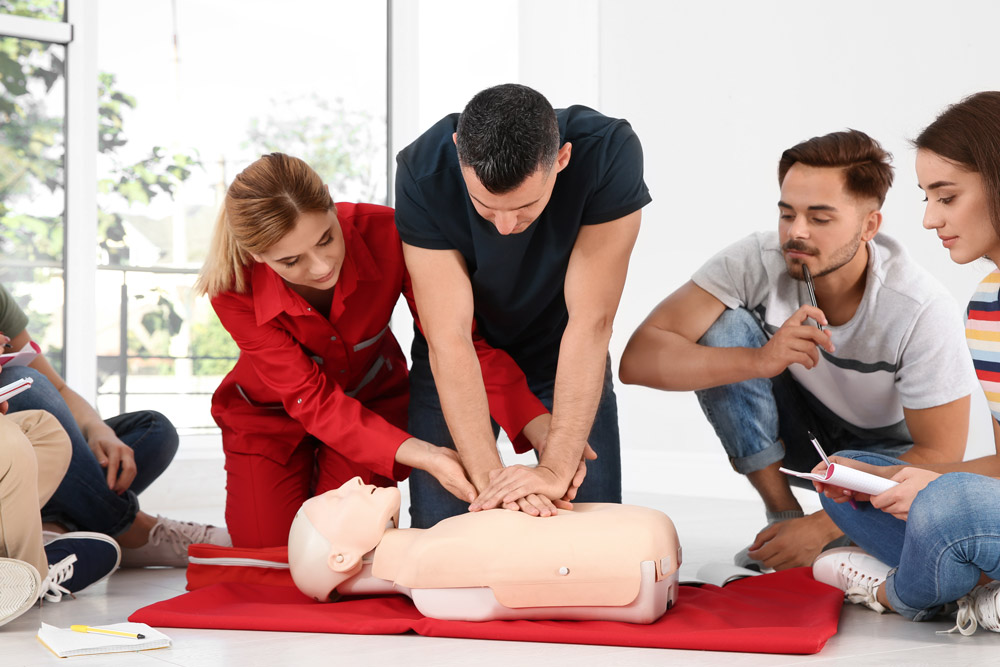 Complete Request
All Major Credit Cards Accepted
Silecio Inc. Validates ALL Comments to be True