Program Duration: Full Day
Max Participants: 12
Price Per Participant at Silecio Facility: $195.00 per person
Price at Your Facility (classes of 7 or more): $195.00 per person
Price at Your Facility (classes of 6 or less): $1,170 flat rate
Program Duration: Full Day
Max Participants: 12
Silecio Inc. reserves the right to cancel and/or reschedule any courses at a Silecio facility with registration of six (6) people or less. For our full terms & conditions, please visit Terms & Conditions page >>
Program Duration: Full Day
Max Participants: 12
CPO Approved - Working at Heights Construction Training
Who Should Attend:
The CPO Approved - Working at Heights Construction Training course is mandatory for workers who work in construction, as well as individuals who will be working at heights or interacting with those who work at heights.
All workers who use fall protection on a construction project (i.e. travel restraint systems, fall restricting systems, fall arrest systems, safety nets and work belts or safety belts) must complete a working at heights training program that has been approved by the CPO and delivered by a CPO approved training provider before they can work at heights.
This training requirement is in the Occupational Health and Safety Awareness and Training Regulation, and is in addition to training requirements under the Construction Regulation.
Course Goals:
CPO Approved - Working at Heights Construction Training course is designed to provide those working at heights with training in proper inspection of equipment for damage, as well as proper procedures for setting up/relocating/removing protective equipment.
This program will also provide demonstrations and hands-on training for how to use fall-arrest equipment and other accident preventing devices, and will also discuss workers rights.
Course Content:
CPO Approved - Working at Heights Construction Training course combines a basic theory module course and a practical equipment course, as follows:
I: Basic Theory Module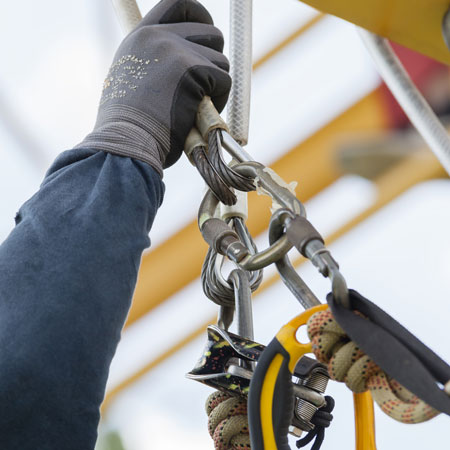 Rights & Responsibilities
Identification of the Hazards of Working at Heights
Eliminating or Controlling Hazards
Warning Methods & Physical Barriers
Ladders & Similar Equipment
Personal Fall Protection Equipment
II: Practical Equipment
Barriers & Safety Nets
Personal Fall Protection Equipment
Anchor Points
Work Positioning Systems & Platforms
Rescue Planning
Course Materials:
As a participant of Silecio's CPO Approved - Working at Heights Construction Training Course, you will receive a participant manual, a test to evaluate your understanding, and a record of attendance. Should you meet the requirements of the course, you will receive a digital wallet card as proof of course completion. Certificate is valid for three years from the training date.
Important Notice:
A practical demonstration of harness inspection and donning is provided in the course, as all participants are required to inspect and don a harness during the class. Participants must bring their own harness and lanyard to the class.
This course is designed in accordance with the Ontario Regulation 851 for Industrial Establishments, the Ontario Regulation 213/91 for Construction Projects, the Ontario Regulation 67/93 for Health Care and Residential Facilities and ensures competency of those working at heights.
Complete Request
All Major Credit Cards Accepted
Silecio Inc. Validates ALL Comments to be True