Program Duration: Full Day
Max Participants: 12
Price Per Participant at Silecio Facility: $195.00 per person
Price at Your Facility (classes of 7 or more): $195.00 per person
Price at Your Facility (classes of 6 or less): $1,170 flat rate
Program Duration: Full Day
Max Participants: 12
Silecio Inc. reserves the right to cancel and/or reschedule any courses at a Silecio facility with registration of six (6) people or less. For our full terms & conditions, please visit Terms & Conditions page >>
Program Duration: Full Day
Max Participants: 12
CPO Approved – Working at Heights Construction Training
Course Description:
Silecio Safety's Working at Heights (WAH) in Construction Training course has been approved by Ontario's Chief Prevention Officer (CPO) under the Ministry of Labour, Immigration Training and Skills Development (MLITSD). This program is designed in accordance with the Working at Heights Training Program Standard and provides learners with information, skills and knowledge pertaining to fall hazards and fall prevention.
Who Should Attend:
Under O. Reg. 213/91: Construction Projects, this training program is mandatory for all workers on a construction project who may be required to use a method of fall protection (i.e., travel restraint system, fall restricting system, fall arrest system, safety net, work belt, safety belt).
All workers who use fall protection on a construction project must complete a working at heights training course that has been approved by the CPO and is delivered by a CPO approved training provider prior to working at heights.
Course Content:
Silecio Safety's CPO Approved Working at Heights Construction Training is a full day course consisting of the following basic theory modules and practical equipment modules: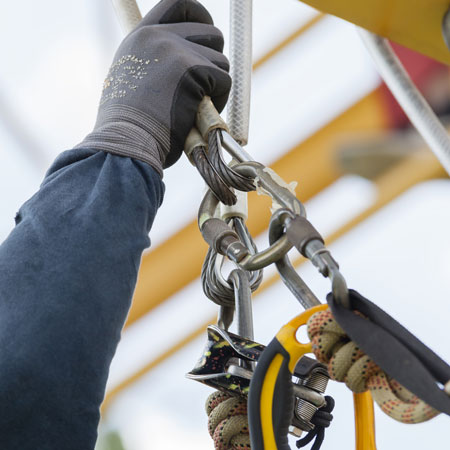 BASIC THEORY MODULES 
A – Rights and Responsibilities
B – Identifying Hazards
C – Eliminating or Controlling Hazards
D – Warning Methods and Physical Barriers
E – Ladders and Similar Equipment
F – Personal Fall Protection Equipment
Final Theory Exam
PRACTICAL EQUIPMENT MODULES
G – Warning Methods and Physical Barriers
H – Anchor Points
I – Personal Fall Protection Equipment
Practical Evaluation
J – Work Access Equipment and Platforms
K – Rescue Planning
Course Materials:
Class Registration Form
Learner's Guide
Inspection Form Handouts (Anchors, Harnesses, Horizontal Lifelines, Lanyards, Self-Retracting Lifelines, Vertical Lifelines)
Final Theory Exam
Practical Evaluation Form
Quick Reference Guide
Course Evaluation Form
Certificate of Completion (valid for 3 years)
Course Requirements:
An area with tables and chairs for the theory portion of the course.
A television or projector is an asset but is not mandatory.
The practical evaluation process requires a minimum rectangular area of 8m (24 ft) x 12m (36 ft).
All trainees must come to class with CSA approved steel toe footwearand will also be asked to present government-issued photo IDprior to course commencement.
In order to successfully complete the course and receive a certificate, each trainee must achieve a minimum of 75% on the theory portion of the course and 100% on the practical portion of the course.
Important Notice:
Site and equipment-specific training are always required in addition to a Working at Heights training program. It is also recommended that prior to taking this course, all workers and supervisors complete Basic Occupational Health and Safety Awareness Training (O.Reg. 297/13).
Complete Request
All Major Credit Cards Accepted
Silecio Inc. Validates ALL Comments to be True